Dear Reader,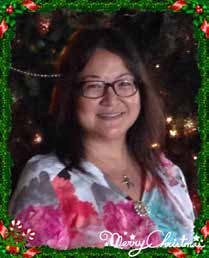 Can you believe that another year has come and passed us by already?
As we grow older we tend to reflect more and more on yesteryear, and this stirs up a variety of feelings, some good and some bittersweet. In looking back to where the CNMI Office of Vocational Rehabilitation was one year ago to where we find ourselves now, I would like to think that we have journeyed together beautifully and that we are stronger together more than ever.
As I write this message, I feel an overwhelming sense of gratitude to our partners for their continued collaboration and faith in the Vocational Rehabilitation Program. I have echoed these same sentiments in the past that OVR's successes would not have been possible with-out the support and encouragement of our partners. Some of our partners include the Offic-es of the Governor and Lt. Governor, the CNMI Legislature, the State Rehabilitation Coun-cil, the Statewide Independent Living Council, the Council on Developmental Disabilities, the Northern Marianas Protection and Advocacy Systems, Inc., the University Centers for Excellence in Developmental Disabilities, the Workforce Investment Agency, the Ayuda Network, Inc., the Special Education Program, the Center for Living Independently, em-ployers in both the private and public sectors, consumers and their families, service provid-ers/vendors, and other stakeholders. I would be remiss if I did not recognize the support that we also continue to receive from the Tinian and Rota communities through their re-spective Mayors' Offices.
As you peruse through the pages of this report, you will find that the stories and the pictures will do a fantastic job of highlighting the activities and projects undertaken always with the support of our partners – to achieve our VR State Plan goals and objectives. If you find any mistakes or inaccuracies in any section of this report, I encourage you to notify our office right away so that we can make the necessary correction.
I will be the first to admit that our program is not perfect in any way, shape or form. But I can tell you this…we make it a point to learn from our mistakes and by doing so we commit ourselves to performing to the best of our abilities given our limited resources and unique circumstances to enhance the lives of more people with disabilities who call the CNMI home.
Please allow me to end my message with a quote from Marc Allen: "In partnership, the re-sult is harmony, respect, love, and an explosion of creativity and joy." May it be like this al-ways with our CNMI Disability Network Partners.
Sincerely yours,
Arlene Kay A. Yamagata, M.S., CRC