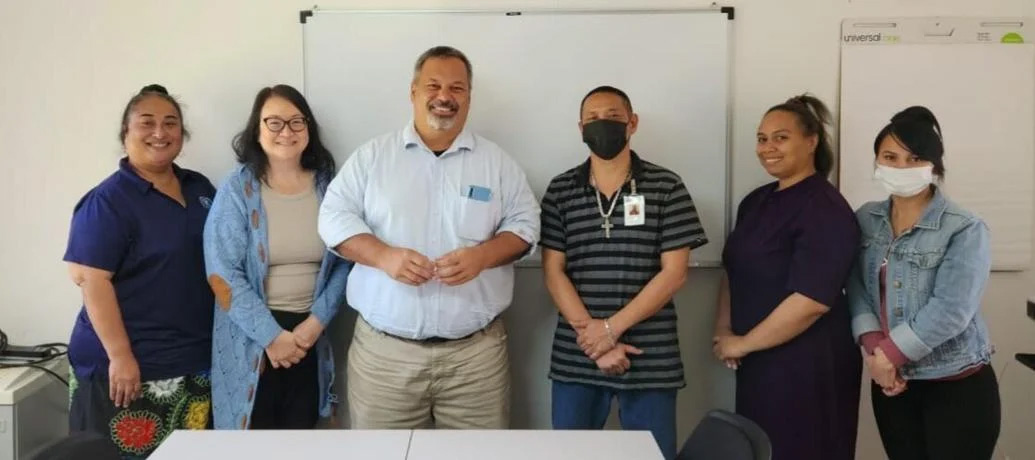 From left: Rose Ichiuo, VR counselor; Arlene Yamagata, VR case services manager; Jim Rayphand, VR director; Manny Iguel, Department of Labor job placement officer; Annie Marciano, VR counseling clerk; and Sherraine Flores, VR counselor aide.
REPRESENTATIVES from the Office of Vocational Rehabilitation, otherwise known as OVR, met with Department of Labor's Job Placement Officer Manny Iguel, to discuss opportunities for people with disabilities to be included in employer work plans for hiring more U.S. citizen workers.

Iguel asked for the meeting and explained that he would be asking employers to include OVR as a resource for finding potential employees in working toward meeting the requirement for no less than 30% U.S. citizen workforce for any given company. Among other things, he wanted to be sure that OVR would be amenable to meeting with employers and to working with them to make suitable placements. He added further that he believes some employers are still hesitant to hire people with disabilities due to uncertainties about how their disabilities might affect work performance, but added, "It doesn't change the fact that they still need to show good faith effort to meet the 30% minimum hires of U.S. citizens. I'll be telling them to come knock on OVR's doors whenever they have openings." He hopes "OVR can assist in helping them to understand how our people with disabilities can be successful employees."

OVR's Case Services Manager Arlene Yamagata explained that OVR has in theory expanded its customer base to include employers: "Because without our employers there would be no jobs for us to place our primary consumers of people with disabilities into. We need to work with employers as well to educate and assist them in the process of job placement for our clients, if we want to them succeed."

OVR receives federal grant funds to provide vocational rehabilitation services to assist eligible individuals with disabilities to prepare for, secure, retain, advance in, or regain competitive integrated employment within their strengths, resources, priorities, concerns, abilities, capabilities, interests, and informed choice. Services include, but are not limited to: assessment for determining eligibility and vocational rehabilitation needs, vocational rehabilitation counseling and guidance, information and referral, physical and mental diagnosis and restoration services, vocational and other training services, job search/placement assistance/job retention services, supported employment services, post-employment services, rehabilitation/assistive technology, school-to-work transition services, etc. Services are individualized and provided in the context of an approved Individualized Plan for Employment or IPE. OVR consumers may be required to financially participate in their rehabilitation program.

Yamagata will serve as point of contact for employers wishing to explore options for hiring individuals with disabilities through OVR. She added, "From experience, we've seen job announcements published where employers have no intention of actually hiring anyone other than to renew their current staff. For the sake of time, we hope to identify those employers who are serious about hiring and not just going through the motions to satisfy a logistical requirement."
OVR Director Jim Rayphand adds that "OVR will do everything within its capacity to assist employers and employees forge successful working relationships. Ultimately, we will do everything possible and, of course, allowable to make sure that our clients are qualified to do the jobs they want to do. It should be said as well that the consumers themselves have to buy into the process and commit themselves to achieving their respective employment goals. By definition, employment means work and employers want people who will do the work they need for their companies, so our clients need to put in work, if they want to work."